Find the latest Snapchat numbers, updated regularly.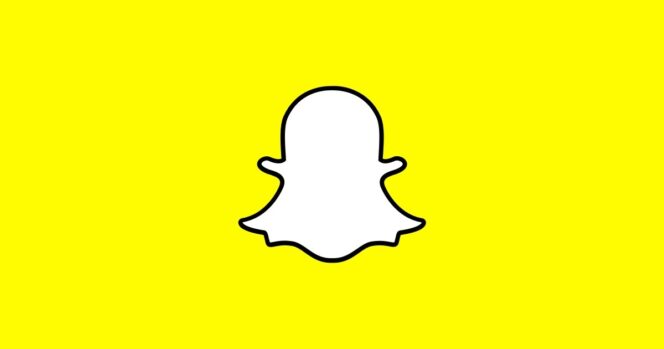 All the Snapchat stats are here! Photo credits: Snapchat.
Snapchat is the trendy social network among young people. Few figures were released until the IPO of Snap Inc.which now reveals its statistics every three months. On this page, we gather the official figures of Snapchat, which was created in September 2011. We also reference statistics published by research institutes.
The main Snapchat figures
265 million daily active users worldwide (+22 % over one year),
Nearly 16.1 million active users every day in France (according to Médiamétrie),
22.6 million active users per month in France (according to Médiamétrie / Snapchat),
90 million daily active users in the US (+9 %), 71 million in Europe (+12 %) and 77 million in the rest of the world (+37 %),
More than 5 billion snaps are sent every day,
Snapchat users spend an average of 50 minutes a day on it,
Snapchatters open the mobile app an average of 30 times a day,
10 billion videos are viewed on Snapchat every day.
Snapchat's Q4 2020 revenue was $911 million (+62 %), including $659 million in the U.S. (+73 %), $142 million in Europe (+54 %) and $111 million in the rest of the world (+27 %). Its quarterly losses were $326 million, up 28 1TP2Q.
In France, Snapchat has nearly 16 million daily active users (September 2020). 60 % of 18-34 year olds use the social network daily, 75 % monthly. 200 million users play with augmented reality every day. Snapchat remains the most used social network by those under 13. And 70 % of 15-34 year olds use the Snapchat app every day, making it the most used mobile app by this age group, according to the social network.
Nearly 12 million users watch shows monthly on the Discover platform, which launched in France in 2016. Time spent watching shows on Discover grew by 45 % between 2019 and 2020. Half of Snapchat's audience in France visits the Discover tab every day.
Other statistics also include the fact that 100 million Snapchatters watch short videos on the Spotlight platform every month, which launched in 2020. Snapchat donates $1 million each day to the most popular creators on Spotlight.
Source : Snapchat
Other statistics on Snapchat
54 % of Snapchat users are women, 46 % are men
Snapchat counts 250 million minutes of augmented reality play per day on average.
More than 200 million users have played with the new augmented reality Lenses (launching in Q2 2019) in the first two weeks of their launch
Over 1.5 million Lenses were created by the Snapchat community at the end of Q3 2019 (+100,000 between Q2 and Q3 2019)
On average, more than 70 % of daily users play or view Lenses each day
Over 175,000 videos are posted on Spothlight every day
More than 100 Discover channels have reached 10 million monthly users (Q3 2019)
50 new international channels were added in Q3 2019, time spent on this premium content increased by over 55 % year over year
More than 100 million Snapchatters have interacted with snaps generated by Snap Kit, the platform dedicated to developers (September 2019), the number of integrated apps has doubled since the beginning of the year
Snap Map has over 250 million users per month
Snapchat usage in the United States
Snapchat is the No. 3 social network used by U.S. youth ages 13 to 17 (22 %), just behind Instagram (24 %) and Facebook (25 %), according to eMarketer.
More than 90 % of 13-24 year olds and 75 % of 13-34 year olds in the US are active Snapchat users, according to Snapchat (official source).
The social network is popular with young U.S. adults, especially for users between the ages of 18 and 24 (73 %).
Nearly 1 in 2 U.S. adults use the app multiple times a day (46 %). This ranks Snapchat just behind Facebook (51 %) and ahead of Instagram (42 %).
Source: Pew Research Center
Snapchat user habits
According to a study conducted by Snapchat and Murphy Research, Snapchat users use the social network to:
Discuss with their friends,
Share photos,
Play with the filters,
Share videos,
Share your day.
Snapchatters most often use the app while on the go (32 %), during their daily commute (29 %), and while traveling (24 %).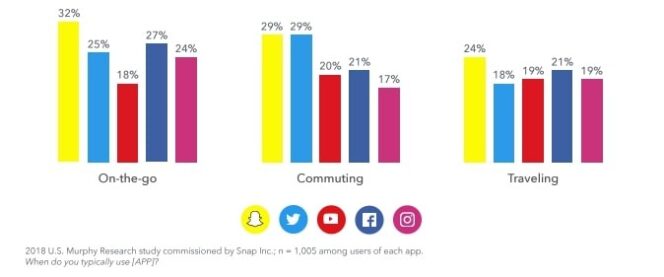 They log on to their account to pass the time (35 %), at home (66 %), and when they can't sleep (29 %).
In general, Snapchat is seen by its users as an application that makes them happy (95 %). Other adjectives cited to describe the ghostly social network include "creative," "attractive," "adventurous," "happy," "spontaneous," and "goofy."