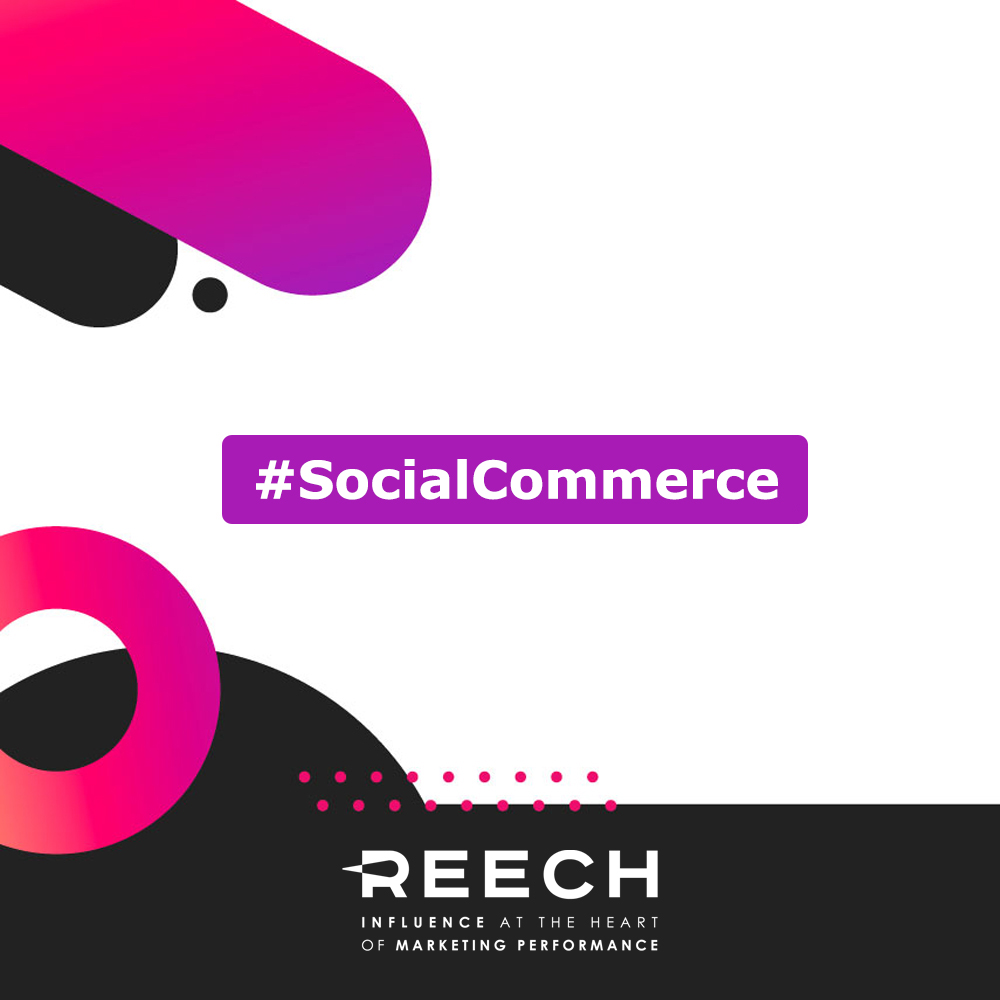 Today, social networks are increasingly oriented towards social commerce. They regularly launch new features that allow brands to do business and generate revenue. This commercial approach is all the more effective if it is combined with another essential lever in 2021: influence marketing.
First, we'll take a look at discovery commerce on Facebook, a social commerce trend that was presented by Farah Hamelin, Facebook Product Marketing Manager, during the last webinar organized by Reech and Swello. Why focus on product discovery on the different platforms of the Facebook group? What strategy should you put in place to develop your business on Facebook, Messenger, Instagram and WhatsApp? How to make the most of "Shopping" on Instagram?
Then we will talk about influence marketing and synergies with social commerce. Guillaume Doki-Thonon, Co-Founder and CEO of Reech, spoke about it during this same webinar. How to use influence to increase sales tenfold? How can influencers help brands sell more? Why a like can become a sale? What strategy should be put in place with them to optimize sales? What type of partnership should be set up with influencers? Which publication format should be used?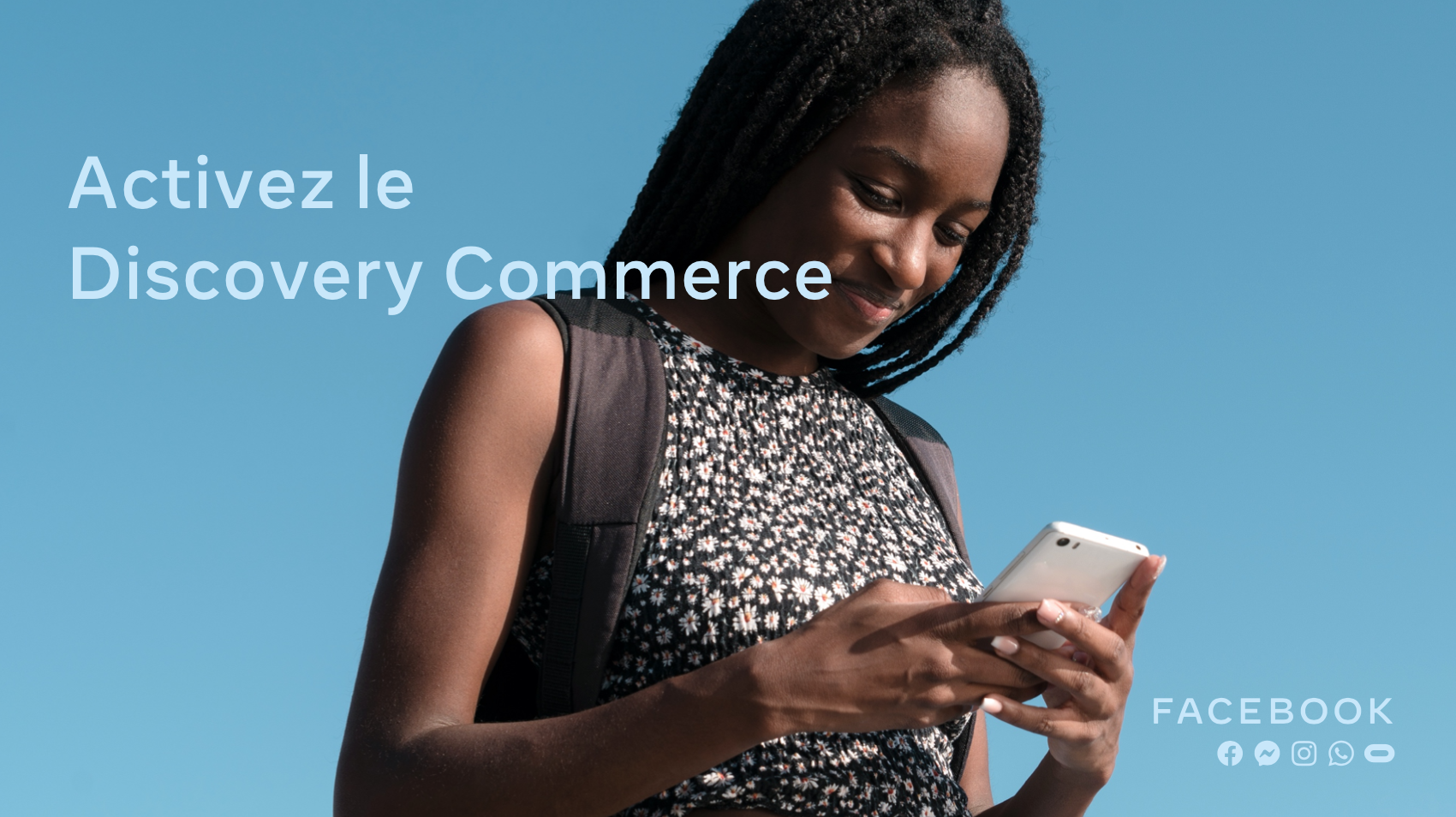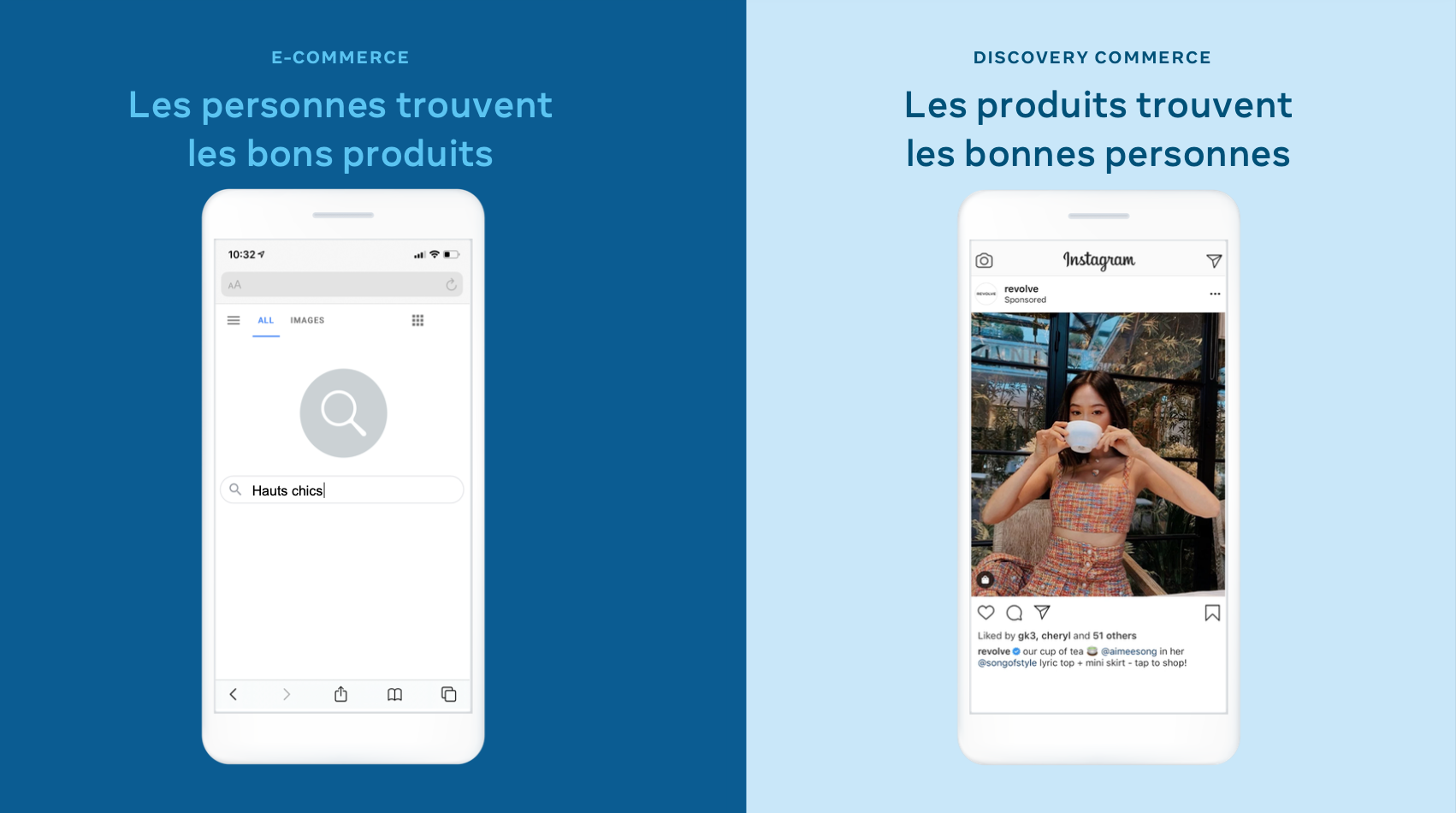 Discovery commerce on Facebook, a social commerce trend.
Let's start by saying that online sales have exploded since the beginning of the crisis. A trend that can be easily explained from the many health constraints associated with Covid19. In France, 28% of people surveyed by Facebook say they will continue to buy online more frequently, even after the epidemic. We should also add that Social Commerce has not yet reached maturity in France, far from it I would say! Some users would like to be able to buy easily from social networks but it is not yet possible or at least not totally. Even if brands have the possibility to offer new shopping experiences, by putting forward their products in an interactive way, payment is not yet fully integrated within the platforms.
Facebook distinguishes between e-commerce in the traditional sense, where people find the right products, and discovery commerce, where products find the right people. The discovery commerce approach is based on secure data management and relies on three elements:
- Have comprehensive data by determining what is important to people and how they interact with the brand.
- Use sophisticated advertising tools to leverage people's data and enable the product to find the right people.
- Deliver compelling shopping experiences, speeding up and simplifying the buying process.
Facebook relies on machine learning to synthesize data and offer businesses the ability to build experiences relevant to each individual. The platform first seeks to understand people via a data set. In turn, brands have the ability to understand their customers. Machine learning technology thus offers personalized experiences to customers who can act immediately by easily making purchases on a website. The data from these interactions continuously optimizes the system. This is what we can call the virtuous circle of discovery commerce on Facebook.
As you know, Facebook has several different but complementary sites and applications. What we're looking for is above all to be able to offer a unified experience across all these spaces:
- Facebook: for a large-scale community.
- Messenger: for closer relationships.
- WhatsApp: for private communications.
- Instagram: for artistic expression.
Let's focus on Instagram, the first platform to position itself on social commerce by focusing its strategy on discovering new things. 84% of people want to discover new products on Instagram. In fact, Instagram has always been a shopping tool. 92% of users say they took action the moment they saw something on Instagram.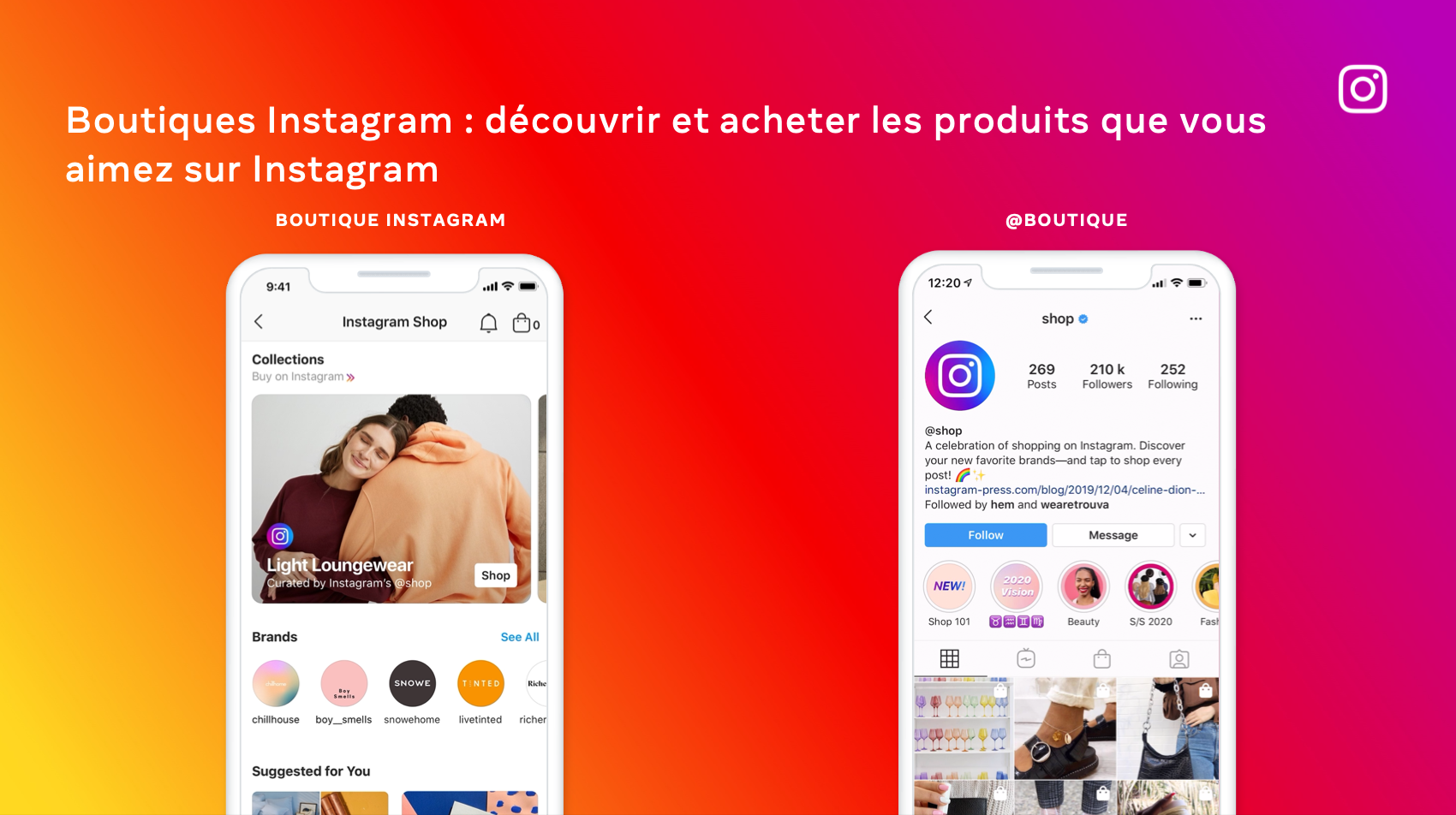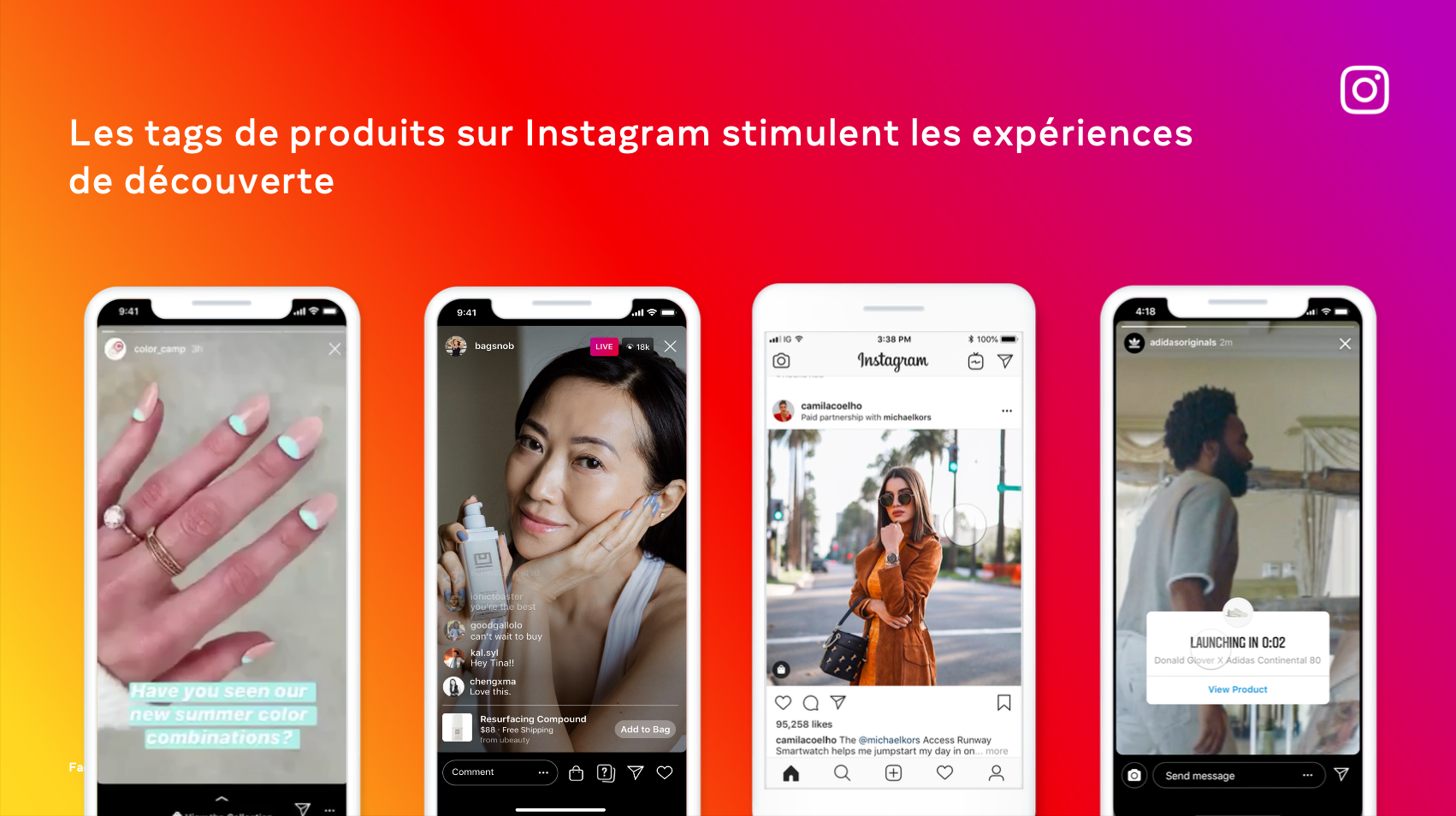 "Shopping" are features that allow people to have concrete information about products for sale and make purchases more easily. "Shopping" is actually two things: the "Tag" and the famous "Swipe Up". Shopping is actually composed of two features, the Tag that gives commercial information within Instagram and the Swipe Up that redirects to an external site. To highlight the power of "Shopping", here is a figure communicated by Farah Hamelin about Instagram: every month, 130 million people see a Shopping tag by pressing on a publication.
To be seen on Instagram, products should always be placed at the heart of the storytelling, directly in the publications or in the stories. In the news feed, it is possible to identify up to five products per image and up to twenty products per carousel. In stories, it is possible to add products to videos and images using a "product sticker". Shopping allows users to quickly access the price and details of products. After tapping on a product ID or sticker, they are redirected to the product description page on Instagram. From there, they can go directly to the website, save the product, or continue browsing other products on Instagram.
The platform goes even further with an important new feature launched a few months ago: the ability to add your credit card details directly into Instagram. A section called "Payments" actually allows you to add a credit card in the application. It should be noted that users are still redirected to e-commerce sites at the time of purchase. Let's be patient!
The combination of Social Commerce + Influence Marketing
Influencers are influencers, people who are known for their power of recommendation to a certain number of consumers. These consumers follow them and interact with them regularly on social networks... (Good) influencers therefore allow brands that sell products to increase their sales tenfold. And by the way, all brands use influencer marketing to ultimately generate sales. But to be successful with influencer marketing, it is essential to keep in mind all the traditional communication objectives, awareness, consideration, brand preference and purchase intent. The worst mistake would be to believe that influencer marketing does not take these different objectives into account. For example, it is impossible to run influencer campaigns with purchase intent as an objective if it is not established with influencers and on social networks.
Instagram is the preferred social network for influencer marketing campaigns. According to the latest study by Reech, influencers rank it as number 1. It's their favorite platform, far ahead of the others, especially Facebook and YouTube! How to explain it? It's thanks to the diversity of formats offered by Instagram, which allows to work on the different communication items mentioned above. An example with the objective of purchase intention. Brands rely heavily on live shopping with influencers who show products, promotions and exclusivities live. So no, live shopping is not a dirty word! It's something that appeals to audiences, social network users want to discover products and be able to buy them easily from this kind of live video.
"Some people think that there are influencers that sell and others that don't, that there are campaigns that sell and others that don't. This is not true! Some brands are simply at different levels of maturity in their influencer marketing strategy."Guillaume Doki-Thonon explained in this webinar.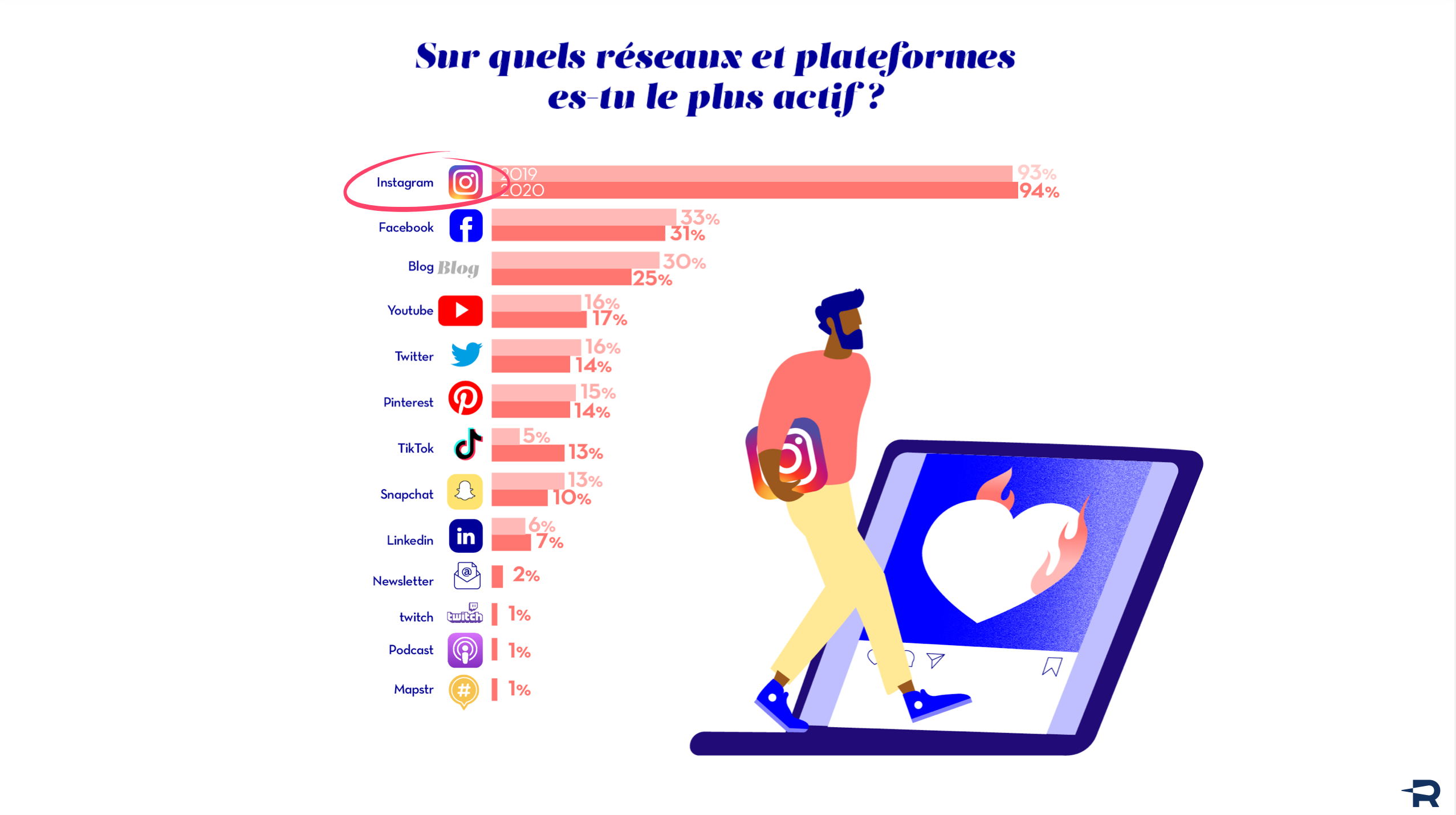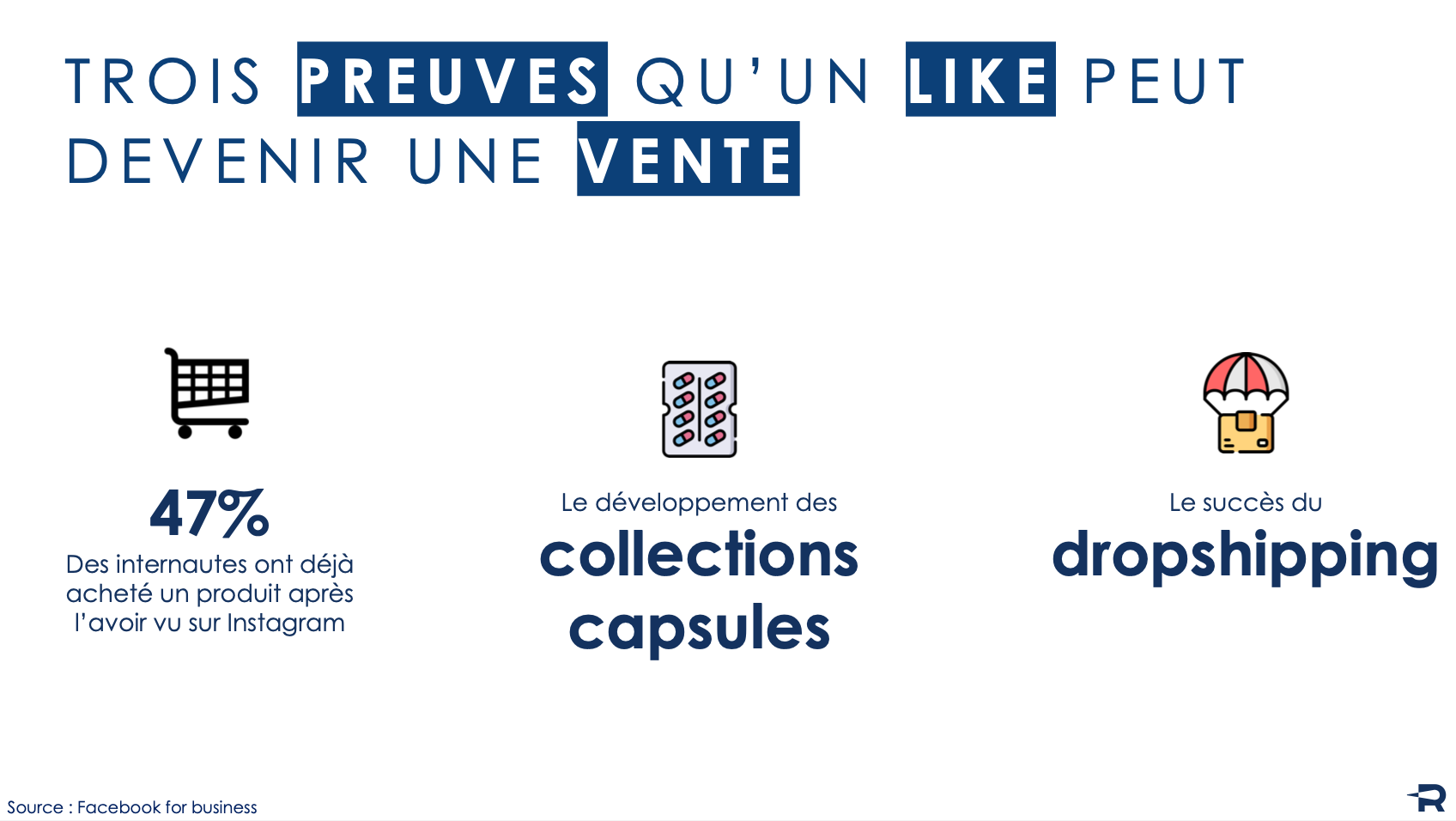 It is possible to imagine campaigns that sell, here are 3 proofs that a like can become a sale.
1. One number: 47 % of internet users have already purchased a product after seeing it on Instagram. They use the platform to discover products and buy them.
2. One type of partnership: the development of capsule collections. Offering products co-constructed with influencers is a winning strategy for brands.
The best example: Léna Situations with the brand Jennyfer. A word on this collection composed of several clothes allowing to be "stylish in all situations" according to Léna. This is an important project for the influencer, Léna really took it to heart. She explains in an Instagram post to have really worked hard to offer cheap clothes and accessories that look like her. She also reassures her followers about her great involvement by explaining that she didn't want to "just put her name on the work of the Jennyfer teams".
Another example, a little less advanced, is Alix Grousset and Deliveroo. A site with a collaborative map highlighting good delivery addresses was created in collaboration with Alix and other influencers. Entitled "Ça recommande", this site is powered by content creators specialized in food, lifestyle and family. They share good addresses by adding a comment. Their community can directly access their latest culinary favorites.
3. A phenomenon: the success of dropshipping. A practice that consists in going to China to find a product and promote it, especially with reality TV influencers, to sell to their community. Be careful, understand that this is not a recommended practice. Indeed, nothing is respected with dropshipping, neither the influencer, nor his community... the rules of transparency are not followed. But we can simply remember that influence sells. An influencer can sell products of a brand that does not even exist in the country in question.
To highlight products on Instagram, influencers have the option of using posts or stories. It is interesting to mix formats, that is to say to identify products in images or in videos but it can also be wise to use the carousel format composed of images and videos. The Shopping feature can also be used in stories. This vertical format uses the entire mobile screen, which provides an aesthetically pleasing setting without distraction. Influencers can use product stickers in stories to give their followers quick access to product information and provide a more natural shopping experience.
Let's finish with a very good idea, that some brands are already using: publish influencers' content on their ecommerce site. Content such as photos or videos published first on the social networks of influencers and reposted in a second time, respecting the transfer of rights, to illustrate a product sheet. A quick word on this transfer of rights, you should know that it requires a new agreement between brands and influencers, it also involves a new price negotiation. How much to sell your content beyond an influencer campaign? Discover this infographic from Reech.
An example: Nature & Découvertes. The brand has chosen to broadcast quality content, created by the influencers it works with, on its product sheets. Photos increase click rates, influencer photos increase conversion rates! Influencer marketing is not only what happens on influencers' social networks. It's also the ability of brands to retrieve content from influencers to put it on their own sales tool.